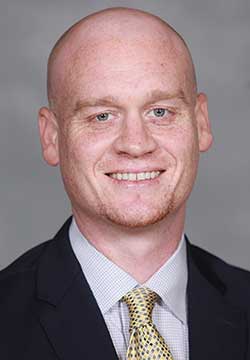 David Kiefer wrapped up his second season as the Lions' head basketball coach after serving as an assistant the previous four seasons.
In his rookie campaign, Kiefer put a competitive squad together that battled their way through a 20-game Southland schedule with six freshmen, three juniors, two sophomores and just one senior. SLU lost six conference games by six points or less including two in overtime.
Kiefer was named the 13th head coach in program history July 2, 2019 following SLU's 12-6 finish in the Southland Conference and 17-16 overall record in the 2018-19 season. The Lions advanced to the Southland Conference Tournament for the 15th time before falling in the semi-finals to Abilene Christian, 69-66.
Kiefer has worked with the Southeastern guards and coordinated the Lions' recruiting efforts. In 2016-17, he helped guard Marlain Veal blossom into one of the top players in the Southland Conference. Veal, the former Lion, concluded his career as the second leading scorer in program history, and all-time leader in assists and steals.
On the recruiting trail, Kiefer brought in a highly-regarded recruiting class this past offseason featuring five freshmen, a junior college transfer and a Boston College transfer.
Prior to coming to Southeastern, Kiefer spent a year on the staff at South Carolina, serving as the team's director of video services. At South Carolina he handled all aspects of the Gamecocks' video services, serving also as coordinator for Frank Martin's Summer Camps.
Kiefer previously served as an assistant coach at Northwest Florida State College where he handled team travel, recruiting and individual player development, along with opponent scouting and film exchange. The 2013-14 campaign saw all eight of its sophomores graduate, with each signing to play Division I basketball.
Prior to his time with the Raiders, Kiefer served as an assistant coach at Jones County Junior College (2012-13), as an assistant at Arlington Country Day High School (2011-12), as a volunteer video assistant at Central Florida (2010-11), as the head junior varsity and assistant varsity coach at St. Mary's Ryken of the Washington Catholic Athletic Conference (WCAC), and as a student manager at Kansas State (2006-08) and in the same capacity at Cincinnati (2005-06).
Kiefer's recruiting classes during his tenures at Northwest Florida and Jones County provided the foundation for national championships at both institutions.
Kiefer also assisted with two powerhouse AAU programs, the Florida Rams and the D.C. Assault.
Kiefer graduated from Kansas State with a degree in social sciences in 2007, and he received his master's degree from Salem International in 2013.